In the Cornelius Hall and in Verket, learning should be based on empathy, communication, investigation, experiment, reflection and presentation. All children and young people in school must experience that their experiences, thoughts and opinions have a value, which can be made visible to others through their own stories. The students are thereby given the opportunity to realize their own strategies, and receive training in developing their own business - entrepreneurship. This can be a way to try out alternative learning methods.
The Corneliussalen offers ready-made learning environments, which have been built in the work to be a hub of the pedagogical development of the municipality, where one wants to benefit from the work's inspiring environment for developing students' learning. The purpose is to put their creative ability in the foreground and to awaken the desire to learn.
Verket´s foundation consists of history, art, mathematics, science and technology. When these are combined and student pedagogy is connected, exciting things happen. Based on visits to the Agency, educators and students should be able to inspire their own school to development.
Modern technology and knowledge must be available and pupils / educators must learn to handle these and discover its possibilities. With digital technology, you can strengthen your documentation of a mission, while at the same time enhancing learning. The purpose is to find the way of working meaningful, pleasurable and varied.
Verket must be consistent with the school's governing documents and must be developed and given new dimensions in the work. Learning takes place in different ways and therefore the students must be given the opportunity to choose the "tools" that they feel are best suited to solving the assignments. It is important that the work is linked to our minds and that the pupils are encouraged to see, hear, feel and do.
Understanding the process when the iron ore was processed from raw material to finished product and how to handle the waste at the time of the old ironworks
Understanding the time that people lived in during that period and how it affected their conditions and values.
Understanding the significance of discoveries for technology, environment, society and people's living conditions.
Following a hypothesis about how the process was used to produce iron from iron ore, we follow the iron path through the old ironworks and also tell about the conditions of the workers. Then we wonder if the hypothesis was correct or if the walk gave new insights and knowledge.

The technology teachers at Bergaskolan in Smedjebacken like this.
"We are incredibly pleased with our visit. The iron path described very clearly and pedagogically all parts of the steel process and the visit became an important element in our technology teaching. The students thought it was rewarding and interesting, and the guides were very good. We will be back next year! "
Evaluation of visits to Verket
Risbroskolan in Fagersta, Labor Science, has been and had the Iron Road in the Work with all students. We think that the layout of think tank and interactive learning walk in the work worked very well.
Our classes have been very satisfied with the workload of you. We teachers thought it was particularly interesting to get knowledge about the cab operations and the facts about the iron processing.
Our idea is that we will visit you with a class every three years, to experience iron production and local history in Bergslagsbygd.
The teachers
Anna Dahlberg, Ann Binning, Jenny Norin, Christina Johansson, Mattias Lindgren
To experience and understand the properties of light and how this can explain the shape and size of the light areas and shadows and how light is perceived by the eye.
Understanding how some historical and contemporary discoveries in the field of physics have affected human living conditions and views of the world
The work in Optik follows a pedagogical model with inspiration, prediction, exploration and documentation of the work.
We explore the properties of light in the work with lenses, mirrors and color shadows and then discuss and document what we experience.
That everyone should experience pleasure-filled mathematics and become aware that it is about much more than just counting.
That everyone should understand that mathematics is everywhere around us and enriches our lives.
That everyone who visits Baghdad should feel strengthened in their mathematical knowledge and know that different cultures have contributed to the development of mathematics.
Alkwarizmi, a mathematician working in Baghdad in the 8th century, receives and can also meet Hypatia, Brahmagupta or Sonja Kovalevskaja.
Together with the mathematicians, one faces different challenges. It can be to create patterns, find new ways to solve problems, play games that develop the mathematical mind and logical thinking. Everything is linked to preschool and school curricula.
One can also take part of the historical perspective of the development of mathematics.
The exhibition Baghdad has been produced by NAVET - Sjuhäradsbygden's science cente
Att alla elever skall få en bakgrund vad programmering är och hur stegvisa instruktioner kan konstrueras och beskrivas.
Att alla elever får prova att styra föremål med hjälp av programmering och olika kommandon.
Att alla elever skall få utöka sitt ordförråd med några begrepp inom programmering.
Beroende på ålder så använder vi oss av olika föremål för programmering. Till vår hjälp använder vi hemmabyggda banor med hinder samt Blue-bot eller M-bot vi jobbar även med datorer där vi blockprogrammerar med Scratch eller Micro:Bits. Vad vi använder oss av beror på tidigare erfarenheter från elevgrupperna.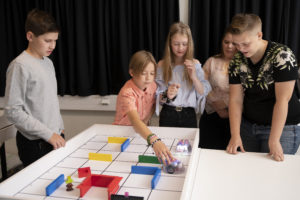 Contact Creative Learning
Malin Grimfeldt, Kulturpedagog, Ungdomsstrateg & Kreativt lärande.
malin.grimfeldt@avesta.se 0226-64 59 97
An artistically designed exhibition on the electromagnetic spectrum.