Invigning av barnens jubileumsflaggor
Barnens 204 flaggor lyser upp centrala Avesta
 Lördag 1 juni 12.30 under Festivalen Avesta
Från barnscenen. Medverkande: konstpedagog Ann Björklund, Kultur &-fritidschef Ing Marie Pettersson Jensen, Kommunfullmäktiges ordf. Blerta Krenzi och ca 160 skapande barn.
Pedagogiskt projekt i samarbete med Avesta Art
Bakgrund
År 1919 återfick Avesta sina stadsrättigheter och utnämningen till stad firades storslaget. 2019 firas hundraårsjubileet med bland annat konstutställningen FESTEN på Avesta Art, Verket. En utställning som visas både i den fantastiska industrihistoriska miljön och som sträcker sig ut i staden.
I utställningen visas konstverk av internationellt verksamma konstnärer, däribland ett videoverk och flaggor av Jacob Dahlgren. Konstverket No conflict, no irony (I love the whole world) som han gjort tillsammans med familjer i Edinburgh, ligger till grund för ett
pedagogiskt projekt som Avesta Art genomfört under vårterminen.
Länk till Jacob Dahlgrens projekt i Edinburgh 2013
Video: http://www.jacobdahlgren.com/?p=6796
Det pedagogiska deltagarprojektet
Avesta kommuns alla 2-klassare har bjudits in att delta i workshops där de under ledning av konstpedagog Ann Björklund får skapa storskaliga kollage inspirerade av konstnären Jacob Dahlgrens konstverk No conflict, no irony (I love the whole world). Delar av barnens kollage scannas in och trycks upp till flaggor som sprider feststämning i Avesta centrum under sommaren!
Under workshopen har barnen arbetat med geometri. De har undersökt geometriska former med kropp och rörelse, samt skapat färgstarka kollage av papper med mera. Barnen har samarbetat med varandra och varje grupp har gjort ett storskaligt kollage tillsammans.


A4-utsnitt ur kollagen har scannats in och tryckts på flaggor som sedan kommer att hängas upp på vajrar spända över gatan på östra och västra sidan av Gallerian i Avesta centrum (27–29 maj). Invigning av flaggorna sker den 1 juni kl. 12.30 under Festivalen.


Workshoparna har dokumenterats av en fotograf. Ett bildspel med både processbilder och barnens inscannade kollage kommer bland annat att visas på några av kommunens bibliotek.


Totalt antal flaggor: 204 st.
Flaggornas storlek: B 78 cm, H. 110 cm
Montering: öljetter


Tidigare pressmedelande
The Celebration
Årets internationella utställning FESTEN tar utgångspunkt i hundraårsjubileet av Avesta stad 2019. År 1919 återfick Avesta de stadsrättigheter som samhället förlorat 1688. Utnämningen till stad firades med en högtid i kyrkan och en stor middag för särskilt inbjudna gäster. När Avesta Art slår upp sina portar i maj 2019 för FESTEN, den 18:e utställningen av samtidskonst, lyfts perspektiv kring identitet, generositet, gästfrihet, nätverkande, förhandling, föreställning, representation och status. I FESTEN visas både nya och inlånade verk av internationellt verksamma konstnärer. Skulpturer, installationer och videoverk av Natasha Dahnberg, RUS/SE, Maider López, ESP och Joana Vasconcelos, POR, samt flaggor och videoverk av Jacob Dahlgren, SE.
Jacob Dahlgren's project No Conflict No Irony (I Love the Whole World)Inspired by the world of sports, it began work in Edinburgh workshops six years ago and the result was a 100 meter banner. This year, five new flags have been added to the project, and just as for the banner, co-creation and participation have been an important starting point in Dahlgren's work. Rhythm between abstract patterns and strong colors flag Avesta Arts anniversary year, both inside and outside the building's entrance building. 
Natasha Dahnberg's installation Sista middagen, consists of an almost 30 meter long table. Here dinner is already over and the care of the preparations meets the loss of events and relationships that have inevitably changed. Parties are deeply associated with people's cultural and religious identity - with generosity and hospitality but also with performance and representation. Maider López video work (Telón.) mixes backdrop and curtain into new colorful compositions. The work is in constant movement and change, and the exhibition space becomes both stage and audience space.  
Joana Vasconcelo's sculpture Tutti Frutti offers a party in the exhibition. The large scale of the glass is enhanced by the contrast between the colorful plastic sand toys and the rugged industrial environment. In the artwork, thoughts are hidden from everything from food consumption, climate impact, sexuality, sex, ethnicity and rebellion.
PRESENTEN
Avesta Art 2019 also presents the exhibition PRESENTEN. Since Avesta Art started in 1995, several of the works of art that have been shown have also become part of the work of the Works and Avesta municipalities. This year's Avesta Art collection is presented together with works from three other municipalities. The exhibition shows "presents" in the form of deposits from Fagersta, Nora and Smedjebackens municipality's collections of public art. Gifts that give context to the history of the work and art through the purchases made by the municipalities during the 20th century and beyond. Artworks that are otherwise found in the municipal archives and in the public environment such as libraries, recreation centers, schools, and the healthcare environment, as well as in office and meeting rooms, reflect in our exhibition our common art history and Bergslagens cultural heritage.
PRESENTEN also includes a new sound piece by composer Torbjörn Grass. Järnkväden, composed of found everyday objects and metal objects previously manufactured in the work, creates a carefully composed register of tones using computer-controlled electrical impulses.
Opera Tactil has been part of Verkets`s permanent exhibithion sice 2010. Opera Tactil by Torbjörn Grass.
Contributing artists PRESENT: Claes Ahlberg, Johan Ahlbäck, Henk Brass, Torbjörn Grass, Fredrik Johansson Marle, Rune Johansson, Julie Leonardsson, Ann-Charlotte Nordahl, Ragnhild Nordensten, Bert Olls, Ulla Zimmerman, Ulla Wennberg, Lars Östling.
Curator
Linda Wallenberg is a freelance curator and runs Linda Wallenberg's art. Among other things, she has worked as a curator for: "Borås International Skulpturbienal 2016", "Visitation Reformation - Bill Viola" in Uppsala Cathedral and Uppsala Art Museum 2017, "Waiting for me" at Uppsala Art Club 2017 and "Ur ash" at Västerås Art Museum 2018. Linda Wallenberg also works as an art consultant for public art and has previously worked at Wanås art, Region Västmanland and Uppsala municipality.
Avesta Art och Verket
Avesta Art has, since the 1990s, shown contemporary art in the spectacular industrial history environment in the Work during the summer season. The work also shows permanent works and an empirical museum about the history of the work. An extensive pedagogical activity with creative learning on history, art and science / technology is ongoing all year round.
Read more about Avesta Art and Verket here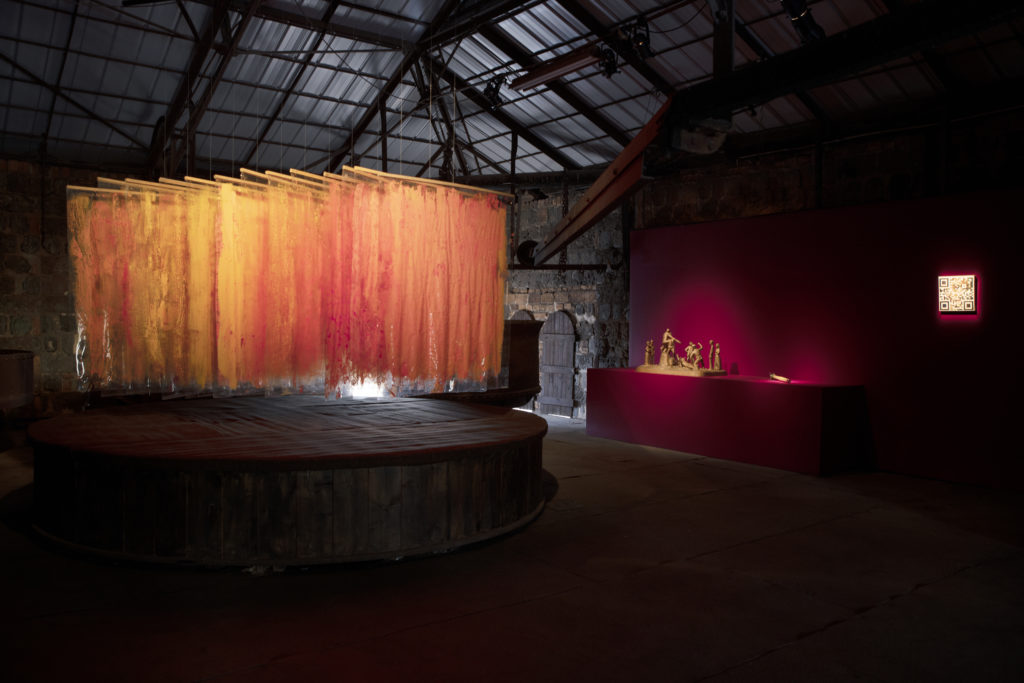 Verket permanent konst/Konst i Verket