I Corneliussalen och i Verket ska lärandet bygga på inlevelse, kommunikation, undersökning, experiment, reflektion och redovisning.  Alla barn och ungdomar i skolan måste få uppleva att deras erfarenheter, tankar och åsikter har ett värde, som kan göras synliga för andra genom deras egna berättelser. Eleverna ges därigenom möjlighet att förverkliga egna strategier, och får träning i att utveckla eget företagande – entreprenörskap. Detta kan vara ett sätt att prova på alternativa inlärningsmetoder.
The Corneliussalen offers ready-made learning environments, which have been built in the work to be a hub of the pedagogical development of the municipality, where one wants to benefit from the work's inspiring environment for developing students' learning. The purpose is to put their creative ability in the foreground and to awaken the desire to learn.
The pillar of the work consists of history, art and science / technology. In the development of new learning, these should be linked to new IT technology and innovative student-active pedagogy. Educators and pupils should be able to inspire their own school for development based on visits to the work.
Modern technology and knowledge must be available and pupils / educators must learn to handle these and discover its possibilities. With digital technology, you can strengthen your documentation of a mission, while at the same time enhancing learning. The purpose is to find the way of working meaningful, pleasurable and varied.
Verket must be consistent with the school's governing documents and must be developed and given new dimensions in the work. Learning takes place in different ways and therefore the students must be given the opportunity to choose the "tools" that they feel are best suited to solving the assignments. It is important that the work is linked to our minds and that the pupils are encouraged to see, hear, feel and do.
Understanding the process when the iron ore was processed from raw material to finished product and how to handle the waste at the time of the old ironworks
Understanding the time that people lived in during that period and how it affected their conditions and values.
Understanding the significance of discoveries for technology, environment, society and people's living conditions.
Following a hypothesis about how the process was used to produce iron from iron ore, we follow the iron path through the old ironworks and also tell about the conditions of the workers. Then we wonder if the hypothesis was correct or if the walk gave new insights and knowledge.

The technology teachers at Bergaskolan in Smedjebacken like this.
"We are incredibly pleased with our visit. The iron path described very clearly and pedagogically all parts of the steel process and the visit became an important element in our technology teaching. The students thought it was rewarding and interesting, and the guides were very good. We will be back next year! "
Evaluation of visits to Verket
Risbroskolan in Fagersta, Labor Science, has been and had the Iron Road in the Work with all students. We think that the layout of think tank and interactive learning walk in the work worked very well.
Our classes have been very satisfied with the workload of you. We teachers thought it was particularly interesting to get knowledge about the cab operations and the facts about the iron processing.
Our idea is that we will visit you with a class every three years, to experience iron production and local history in Bergslagsbygd.
The teachers
Anna Dahlberg, Ann Binning, Jenny Norin, Christina Johansson, Mattias Lindgren
To experience and understand the properties of light and how this can explain the shape and size of the light areas and shadows and how light is perceived by the eye.
Understanding how some historical and contemporary discoveries in the field of physics have affected human living conditions and views of the world
The work in Optik follows a pedagogical model with inspiration, prediction, exploration and documentation of the work.
We explore the properties of light in the work with lenses, mirrors and color shadows and then discuss and document what we experience.
To be inspired to own story
To develop imagination and language
To stimulate creativity and curiosity
After a "narrative warming" in the Corneliussalen, we visit the visiting groups on a walk through the works' exciting, dark and cold rooms to find inspiration for their own stories.
We take with us a character that can get special gifts, a wish fulfilled and the opportunity to find time and space for his story. Perhaps we also discover something that puts a spanner in the wheel, but in that case the password or something else can help us to reach the goal.
That everyone should experience pleasure-filled mathematics and become aware that it is about much more than just counting.
That everyone should understand that mathematics is everywhere around us and enriches our lives.
That everyone who visits Baghdad should feel strengthened in their mathematical knowledge and know that different cultures have contributed to the development of mathematics.
Alkwarizmi, a mathematician working in Baghdad in the 8th century, receives and can also meet Hypatia, Brahmagupta or Sonja Kovalevskaja.
Together with the mathematicians, one faces different challenges. It can be to create patterns, find new ways to solve problems, play games that develop the mathematical mind and logical thinking. Everything is linked to preschool and school curricula.
One can also take part of the historical perspective of the development of mathematics.
The exhibition Baghdad has been produced by NAVET - Sjuhäradsbygden's science cente
To be inspired to own story
To develop imagination and language
To stimulate creativity and curiosity
I tre år har kommunens skolor bjudits in till en heldag i Verket och då som ett projekt under Skapande Skola. Läsåret 2015/16 är det Avesta kommun som står för inbjudan. Precis som tidigare år erbjuds dina elever delta i en upplevelse som lyser upp ett flertal "kreativa stigar att vandra vidare på", allt givetvis på åldersanpassad nivå och utifrån Lgr 11:s riktlinjer och kursplaner.
Genom ett historiskt förankrat men fantasifullt upplägg ges eleverna möjlighet att, lekfullt och med flera sinnen, förstå en del av sin hembygds historia och hur livet kunde gestalta sig för Avesta kommuns invånare i slutet av 1800-talet. Utifrån ett muntligt berättande uppmuntras barnen att själva vara med och påverka delar av handlingen och därigenom skapa en sorts interaktiv teaterföreställning där det förbestämda varvas med improvisation och barnen fungerar mer som medspelare än publik.
Arbetet består av ett antal moment som istället för att "ta en massa tid" från ordinarie undervisning är anpassade att komplettera och förstärka denna. Utifrån projektet finns oändliga möjligheter till fördjupning inom statliga skolämnen inom flertalet områden som t.ex. hembygdens historia, våra nutida industrier, FN:s barnkonvention, genus och skapande. Samtidigt fungerar arbetet naturligtvis också som ett fristående inslag i undervisningen.
Den mest koncentrerade delen av arbetet sker under en heldag i Verket men introduceras redan på den egna skolan då projektets centralgestalt och ledare Hvita Frun söker upp eleverna i klassrummet.
Hvita frun, eller Hytt-Lisa som hon benämndes, är ju ett mytomspunnet kvinnligt väsen som enligt sägner och folktro vakat och styrt över den gamla järnbrukshyttan i Avesta.. Men… hur var det med det där egentligen? Existerade hon verkligen på riktigt? Eller var hon bara ett påhitt och i sådana fall varför? Oavsett vilket; här och nu dyker hon i alla fall upp ur det förgångna och ber dagens barn om hjälp att lösa ett ouppklarat (fiktivt) mysterium och kanske därigenom göra upp med en sedan mycket länge glömd oförrätt. Tidigare år har det varit patron Cornelius silverbestick som varit försvunna….nu har det däremot dykt upp en ny gåta att lösa. Förhoppningsvis är eleverna villiga att hjälpa till och inbjuds till Verket.
Väl på Verket tas eleverna med på en vandring genom tid och rum, en vandring där fantasin och leken skapar goda förutsättningar att ta till sig kunskap om såväl dåtidens levnadsvillkor och möjligheter som järnframställning och det gamla samhällets uppbyggnad. Med lite tur kan det hända att eleverna utöver Hvita frun träffar en eller annan karaktär från förr som också har historier om hyttan och svunna tider att berätta. Verkets levande lokaler och interaktiva teknik, där ni upplever mörkret, ljuset, (o)ljudet och spänningen, skapar unika möjligheter att uppleva historien med flera sinnen. Och så var det ju det där med oförrätten förstås!
Under dagen serveras en enklare hyttlunch. Under måltiden pågår berättandet och frågorna; Vad och var åt hyttarbetarna? De måste väl ha varit väldigt smutsiga? Och det där med toalett… hur funkade sådant förr? Vad gjorde man på lunchrasten…eller hade man ens lunchrast? Är det sant att vissa av barnen i hyttan jobbade barfota?
Som Du förstår är nyfikenheten och frågorna en viktig del av projektet!
Efter lunch utmanas eleverna till ett eget, kreativt "skrotskapande" som utveckling och komplement till dagens upplevelse – ett fantasifullt och tillåtande arbete som får ta sin tid.
Som tidigare nämnts är upplägget öppet att utvecklas av respektive lärare men kan också med fördel integreras i skolans ordinarie arbete utan att nämnvärt rubba gällande terminsplanering rörande i första hand samhällskunska, historia och svenska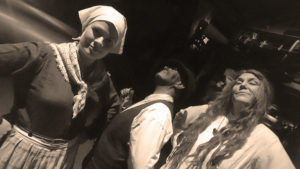 Att alla elever skall få en bakgrund vad programmering är och hur stegvisa instruktioner kan konstrueras och beskrivas.
Att alla elever får prova att styra föremål med hjälp av programmering och olika kommandon.
Att alla elever skall få utöka sitt ordförråd med några begrepp inom programmering.
Beroende på ålder så använder vi oss av olika föremål för programmering. Till vår hjälp använder vi hemmabyggda banor med hinder samt Blue-bot eller M-bot vi jobbar även med datorer där vi blockprogrammerar med Scratch eller Micro:Bits. Vad vi använder oss av beror på tidigare erfarenheter från elevgrupperna.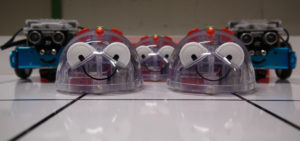 Contact Creative Learning
Malin Andersson, Coordinator and educator NTA and Creative Learning
malin.andersson@avesta.se    0226-64 56 65
Malin Grimfeldt, Kulturpedagog, och ansvarig för Skapande skola
malin.grimfeldt@avesta.se 0226-64 59 97
An artistically designed exhibition on the electromagnetic spectrum.